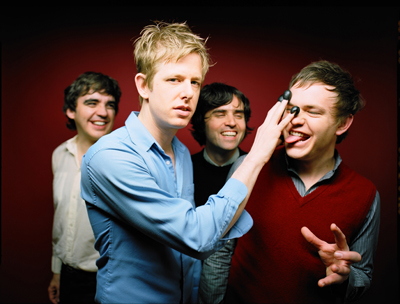 I know I said I wouldn't make many lists for the end of the year, but I gotta say, there were two tracks that got my adrenaline rushing through my veins every time I heard them shits: Talib Kweli's "Hot Thing" and Spoon's "Don't You Evah." They were those types of songs where if you played them randomly, no matter where I was, I would drop everything I was doing and just start dancing choreography style.
I already did an
entry
about Talib Kweli's
Eardrum
, which is definitely one of the best of this year. Actually, it's perfect that I talk about these here artists because Talib started out fresh, then got a little stale with the last album, but comes back hard with this new album, and it's sick. Spoon starts out fresh, then got a little stale, as well, but BAM!
Ga Ga Ga Ga Ga
, too, is one of the best albums of the year. The best they've done since
Girls Can Tell
.
When did Brit Daniel get so damn soulful and groove-tastic? I mean, I knew the brother had range, but damn.
UPDATE:
Apparently NY-based trio The Natural History were the originators with "Don't You Ever." You can listen to it on their
Myspace page
. It's the first track on the player. It seems to go downhill from there. But, hey, that one song is all it takes.