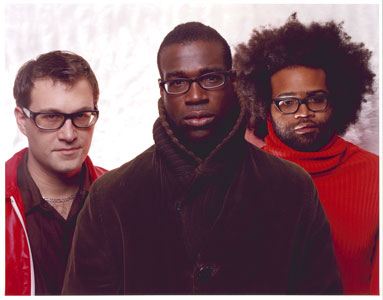 Because what he has done for the Brooklyn scene in recent years is what O'Rourke continues to do for Chicago. I guess the obvious choice would be Steve Albini, but that's pushing it too far.
Anyway, whenever I see "Mixed by" or "Produced by" next to Jim O'Rourke's name on the back of an album, I know it's gonna be one helluva album, because O'Rourke only fucks with the best. And I'm starting to feel that way about Sitek. I should thank him greatly for bring TV on the Radio and Liars alone.
Now he's producing Scarlett Johansson's upcoming album! I know, crazy.
Another Sitek-produced band that is reaching up from under the radar is another NY-based band
Dragons of Zynth
, and when I listened to their album, I was quite impressed.
David Sitek, congratulations. You are officially approved.