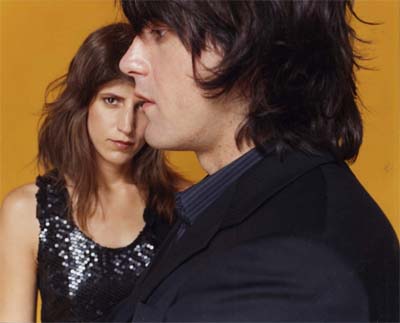 The Fiery Furnaces, 2007's Top 3 performers
10. Badly Drawn Boy, March 14 @ The Loft
. He's a very sassy performer, but he played his ass off. He made me want to throw my drawz at him when he sang "Magic in the Air" at the end of his encore.
9. Peter, Bjorn and John, Sept. 12 @ Variety Playhouse
. I knew this show was gonna be good when I went to the box office six hours prior to the show and purchased the very last ticket. Weeks before the show I wasn't sure if I wanted to see PBJ or not, but I'm glad I decided to go. Hearing "Up Against the Wall" live is a treat.
8. Blonde Redhead, May 4 @ Variety Playhouse
. I've been wanting to see these kids for over two years and it was fantastic. It was kinda weird because they sounded too similar to their studio recordings, but they put on a good'un, nonetheless.
7. Caribou, Oct. 12 @ The Earl
. Dan Snaith is a hard-working mother, man. Caribou just has a great all-around sound and I'm happy to have witnessed such beauty live.
6. Jens Lekman, Nov. 16 @ Drunken Unicorn
. He didn't perform with his band, but to my amazement, he pulled it off like a pro. I always have ultimate respect for solo artists who still knows how to be entertaining.
5. Deerhunter, March 30 @ Lenny's
. The biggest buzz band of the year, who happens to be from my neck o' da woods, threw a release party on this date. It was incredible. They played their asses off, and I was pleased.
4. Modest Mouse/Man Man, May 5 @ The Masquerade Music Park
. Modest Mouse=favorite active band, Man Man=favorite live band--what more could I ask for?
3. The Fiery Furnaces, July 7 @ The Earl
. When I first saw them in 2005, it was my favorite show of the year. Your life is meaningless if you haven't seen Fiery Furnaces live, because it's an ongoing adrenaline fest. They were even better than the last time, and would've easily been my favorite of this year, but they had some tough competition this year.
2. Animal Collective, Sept. 26 @ Variety Playhouse
. They, too, were an adrenaline fest, and seeing them live was a real treat for me. They played a nearly two-hour set without an encore! Straight through that sucka! They rocked my world.
Who could've topped Animal Collective and Fiery Furnaces, you ask?
These guys:

1. Sonic Youth, July 13 @ Pitchfork Music Festival
. Sonic Youth was the only band I felt like I needed to see before I retired in this here life, and seeing them for only $15 performing
Daydream Nation
in its entirety, as well as a handful of great jams off of
Rather Ripped
(especially with them ending on "Jams Run Free") was more than an "awesome" time. Words are overrated when it comes to my feelings on seeing one of my all-time favorite bands live. God bless you, Kim, Thurston, Lee and Steve.